Former NXT UK Star Dani Luna Talks WWE Release
Dani Luna was released after NXT UK said it would take a break before NXT Europe debuted.
Luna was asked if she was terminated or asked to leave by NBC Sports Boston's Steve Fall. She was explicit in saying that the business had kindly let her go.
"No, I was released. Don't want to set any of those rumors alight. I was released under very nice terms. I wasn't fired. It was just a case of what they're doing at the moment doesn't fit what I'm doing at the moment kind of thing. Obviously, I was in good company, so I can't be too upset. I still have all my friends."
She claimed she wasn't surprised by the decision because she recognized the company's need to make major adjustments before launching the new brand.
"I don't know if blindsided is the word. It's just I guess, NXT Europe is planning to be bigger than NXT UK ever was. So to do that, they have to take these big steps, and I understand that. If, down the line, they're like, oh, we want Dani Luna in NXT Europe, then great news. But until then, I'm just me."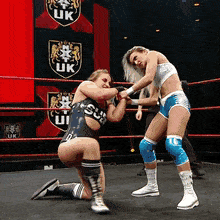 Luna referenced the Speaking Out Movement after Fall said NXT UK didn't have enough marketing. She said she wishes more people to see the brand's wrestling.
"I don't know. I don't know if it was necessarily WWE's fault, or obviously, we had the whole Speaking Out Movement over here as well, so I don't know if that obviously affected it a little bit too. So I don't know if there was just a period, especially during the pandemic, where wrestling was just kind of a touchy subject, and I feel like sometimes we just got the bad end of that. But I do think, completely unbiased, that we had some of the best pro wrestling in that ring, and it's a shame that more people didn't get to see it because I watched some of the best matches I've ever seen. But I don't think so. I think it was just a case of wrong place, wrong time."
When asked how she learned about NXT UK's sabbatical, Luna said the roster heard rumors before the announcement. Despite her disappointment, she acknowledged that the action made sense from a commercial standpoint.
"It was a pretty quick turnaround, to be honest. But the same you hear all these rumors, we hear them all too, and it's even more unsettling when you work there, you know. So it was just a case of it happening, and we were all understandably upset, but as you said, it didn't necessarily have the biggest viewership in the world. So from a business perspective, you can't really be like, 'Oh that's unfair.' If it's not making them money, I can't be like, 'Oh you have to keep me because I want to work in WWE.' It's not up to me. It's a lot bigger than just us all."
Before this past Saturday's Worlds Collide PPV, NXT UK recently broadcast their farewell episode. As Mandy Rose and Bron Breakker win the NXT UK belts, an era comes to an end.